ForFriends Inn | Santa Ynez, California
A Luxurious Place to Relax and Make Friends
Welcome to ForFriends Inn, situated in downtown Santa Ynez, California and just five minutes from Los Olivos & Solvang. This immaculately detailed eight-room boutique bed & breakfast lies in the heart of the Santa Barbara County Wine Country and is surrounded by rolling hills, cattle ranches, horse farms and over 200 gorgeous vineyards and wineries. ForFriends Inn is within a short walk to tasting rooms and the area's best restaurants and entertainment; and a short, traffic-free drive to all of the wonderful wineries and other attractions throughout the Santa Ynez Valley and the Santa Rita Hills.
Completed in 2005, ForFriends Inn was built in the fashion of a large Craftsman farmhouse. Great care has been given to combine Wine Country and the New West with a touch of elegance to create a perfect wine country getaway for couples and friends seeking a brief respite from their busy lives.
Eight large, elegant rooms in ForFriends Inn include six in the main house and two private cottages — the two-story Sunstone Tower and the cozy Kalyra Cottage. All of the rooms offer a California king-sized bed, large private bathrooms, sitting areas, premium linens, upgraded amenities, luxurious bathrobes, balconies and porches. All are elegantly appointed to provid you with an array of personal touches and all of the amenities you deserve.
Enjoy a Perfect Day in Santa Barbara Wine Country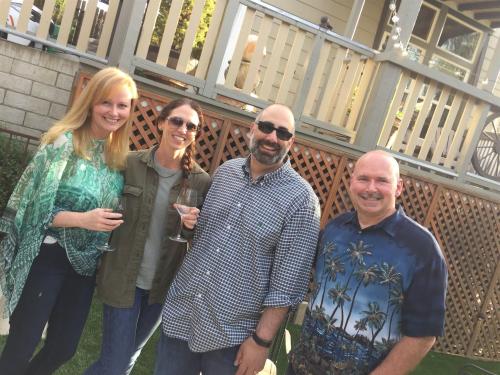 Every day at ForFriends Inn begins with a fantastic three-course breakfast, prepared with love. The fabulous meal includes many scrumptious homemade specialties like granola, breads and out-of-this-world egg dishes that are sure to satisfy any appetite. After breakfast you're off to enjoy Santa Barbara Wine Country with our Friendship Pass entitling you to over $300 in complimentary wine tastings at over 40 excellent vineyards, and over $50 in free appetizers at local restaurants. After exploring the gorgeous Santa Ynez Valley, you'll enjoy wine, hors d'oeuvres and friendly socializing during the festive afternoon happy hour in the floral Wine Garden or comfy front room.
After happy hour you can enjoy a short, leisurely stroll to some of the Valley's best restaurants and entertainment, just steps away in downtown Santa Ynez (no need to drive). Later, your evenings can be spent lounging on the Inn's large wraparound front porch, strolling through the peaceful, lighted Wine Garden or relaxing on a private balcony with wonderful views of the Valley, surrounding mountains and infinite stars above. Some folks prefer making new friends, enjoying a beverage, or reading a good book in the warmth of the large stone fireplace in the Inn's front room.
However you spend your time at ForFriends Inn, our main wish is that you arrive as guests and leave as friends.